A new program for retreats was introduced at the November 2022 retreat, where two of the Ten Fundamental Patterns identified by Ren Xue will be the focus for each retreat as we progress. The first two patterns we looked at were Fixed Expectations and Avoiding & Hiding and at the May 2023 retreat in France we will focus on two more: Polarized Thinking and Over-Generalization.
Why are we working on unhealthy patterns in such an intensive way at this time? When life is controlled by them, the True Self and its wisdom cannot manifest. Life will inevitably be the work of the ignorance of the false self. This puts life on the path of creating all kinds of problems. Consequently, natural qualities of life such as health, true happiness, a sense of wellbeing, and growth will not have a chance to manifest.
Unhealthy patterns in each and every human being are also the root cause of the countless problems humanity faces today, and many of these problems are now serious crises. As a result, the world is becoming increasingly unstable and the need to address and overcome these crises is greater than ever. It is a critical time for humanity to choose the right direction.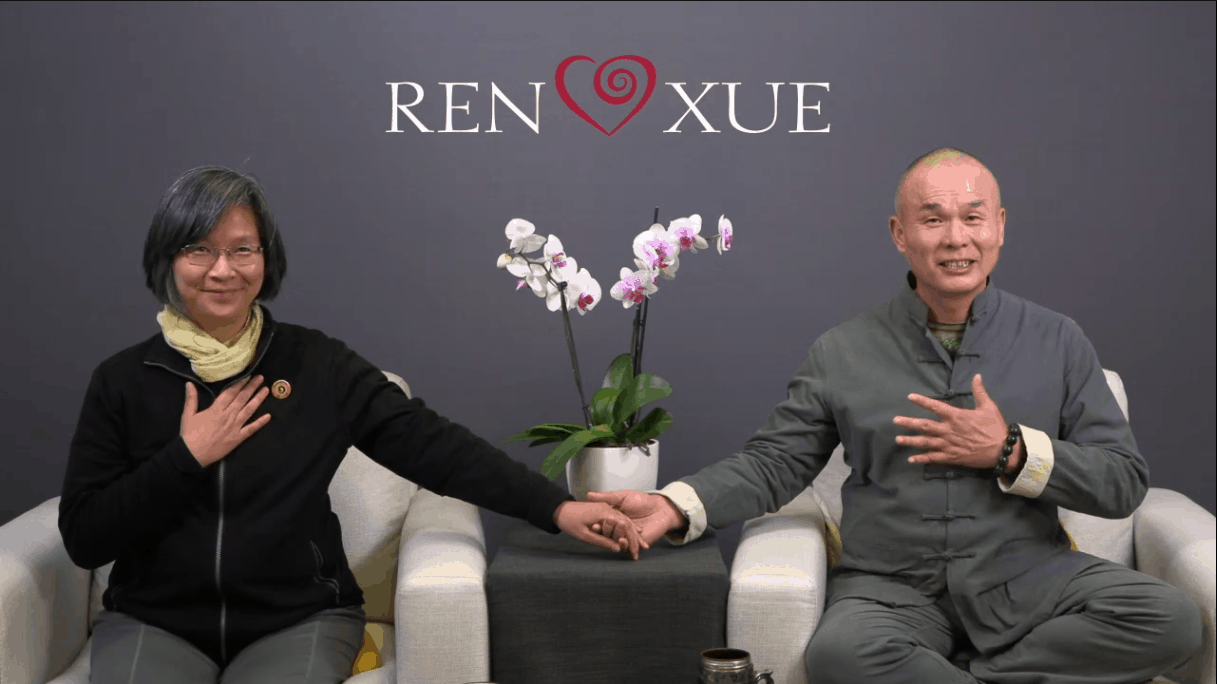 Join Yuan Tze and Melissa and the Ren Xue community for their first in-person retreat in Europe since 2019
Ren Xue offers the path of Realization and Wisdom as the solution, and transforming unhealthy patterns is the approach to achieving it. It is necessary to bring our work on patterns to another level – to honestly face and properly work on our patterns so we can make headway in our effort to shed the false self and let the True Self manifest. We depend on Realization and Wisdom to transcend primitive survival instincts and uplift humanity to a higher level where true peace and harmony is possible.
We would like to invite you to walk this path together. It is a special journey of walking towards your True Self, a journey for real change.
During the retreat you will be immersed in a very powerful and pure Qifield and Yuan Tze will invite you to engage in connection and communication with him on the heart, consciousness, and Shen levels. You will find this process most nourishing and full of opportunities for positive change.
Yuan Tze is looking forward to returning to this beautiful place in France after 4 years and spending ten days with you there. Let's come together to build a Qifield filled with an abundance of love, wisdom, and growth!
No matter where you are on this path, this retreat will take your growth to the next level.
Accessing the Yuan Tze's teaching during the Retreat Online
Sunday, May 7 – Tuesday, May 16 (NZST)
We are now able to offer an online version of Yuan Tze's Seeing Your Original Face 2 retreat from France! The online offering will run 2 days behind the live in-person retreat. We will run a similar program to our usual online events, with live Zoom Yuan Gong teachings and practices and Tea & Qi sessions, and Yuan Tze's teaching sessions will be offered as recordings rather than a live broadcast – similar to our European program for online events over the last few years.
Participating in the retreat online you will be immersed in the same powerful and pure Qifield. During the retreat Yuan Tze will invite you to engage in connection and communication with him on the heart, consciousness, and Shen levels. You will find this process most nourishing and full of opportunities for positive change.
Find out more and register here.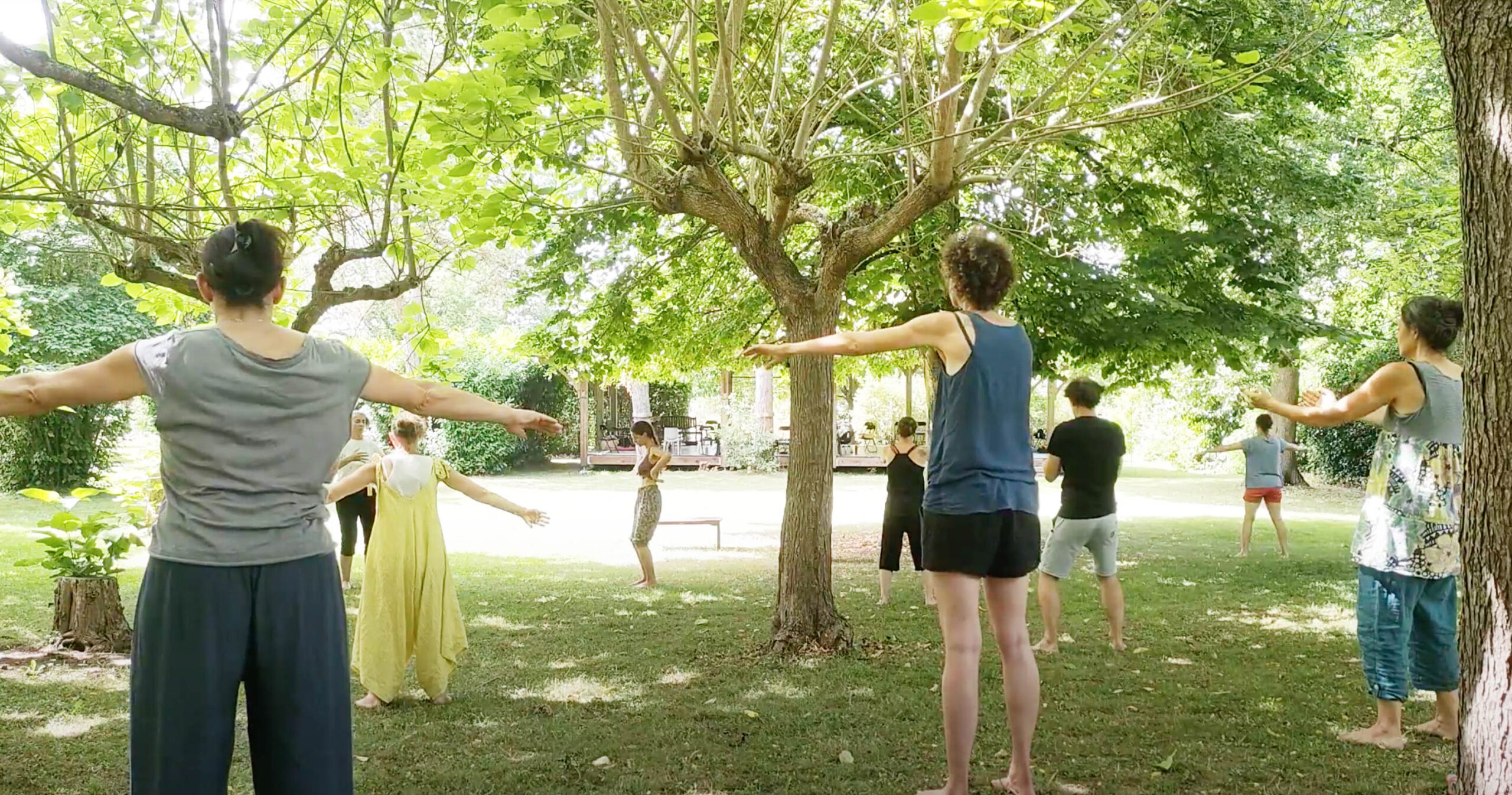 Retreat and Venue Details
Click on any of the links below to jump to further details about the In-Person Retreat:
Venue
Domaine de Lembrun,
47110 Le Temple-sur-Lot
France
GPS Coordinates; 44°23'48.7″N 0°32'48.5″E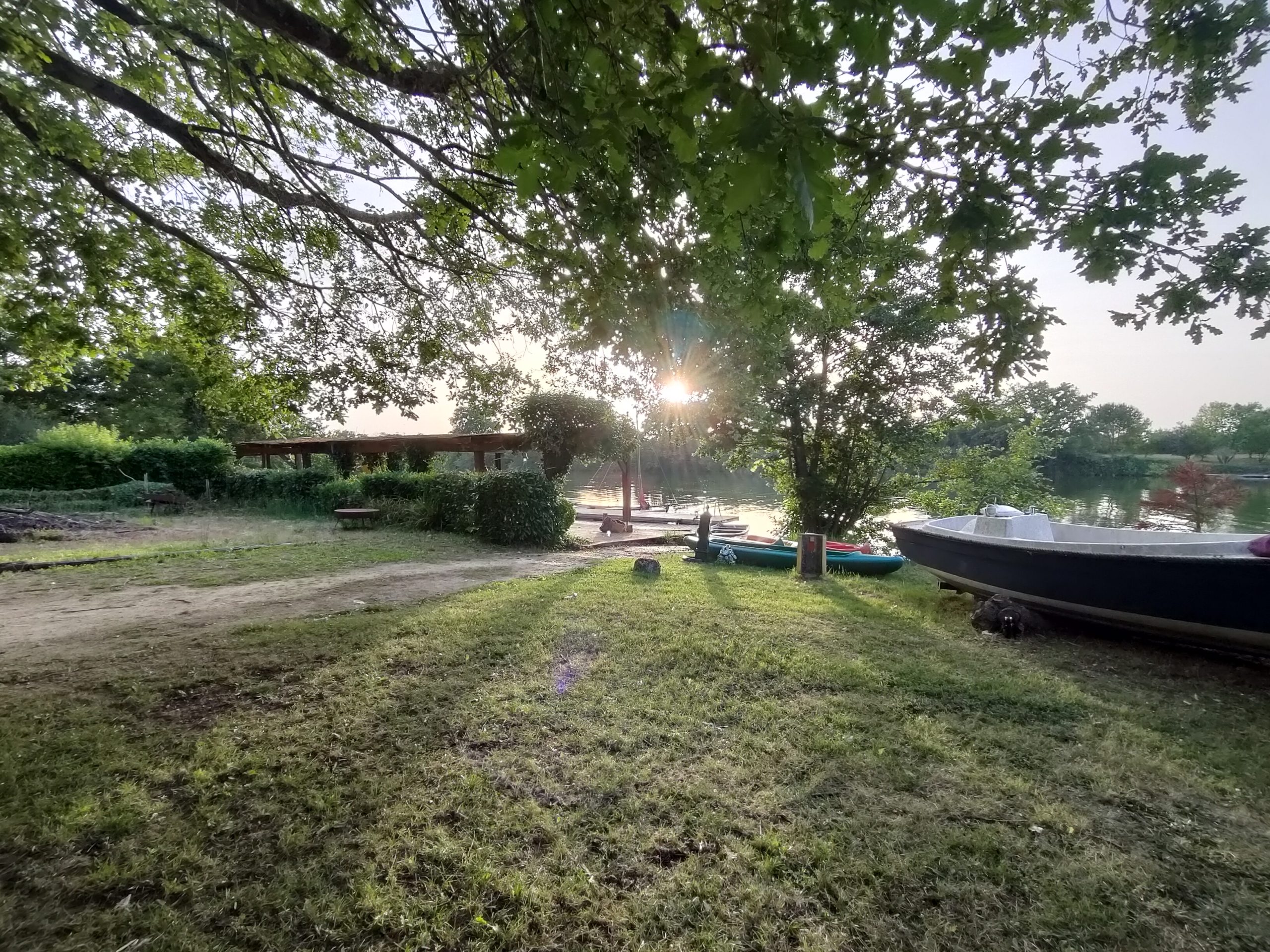 Transport options to and from Domaine de Lembrun
Location:  http://domaine-de-lembrun.com/#baform-1
Nearby International airports: Bordeaux–Mérignac airport, Toulouse Blagnac airport, Bergerac Dordogne Périgord airport
Taxi pickup from Bordeaux airport to the venue
Taxi pickup from Toulouse airport to the venue
Taxi pickup from Bergerac airport to the venue
Train from Bordeaux Central station to Agen
Train from Toulouse Central station to Agen
Taxi pickup from Agen train station to the venue
Public bus from Agen to Temple sur Lot
Taxi service
| | | |
| --- | --- | --- |
|   | Day rate 07hr-19hr  | Sundays and Night rate 19hr-07hr |
| Villeneuve train station to venue | € 34 | € 49 |
| Agen train station to venue | € 65 | € 95 |
| Bergerac airport to venue | € 126 | € 188 |
| Bordeaux airport to venue | € 290 | € 425 |
| Toulouse airport to venue | € 310 | € 460 |
Price quoted per taxi, can carry maximum 5 passengers plus luggage
Contact Sylvie on sylviej@protonmail.com if you wish to request a taxi service
Travel Sustainably: Offer or request a ride share
If you are driving to the retreat from within France or its neighbouring countries we invite you to offer a Ride Share so that we may all travel more sustainably.
There are many great reasons to ride share, from reducing greenhouse gasses and saving money to meeting new people. REN XUE Europe would like to do its best to facilitate transportation opportunities for both our students and staff. You can request or offer a Ride Share with Sylvie at Sylviej@protonmail.com. We sincerely hope that your use of this suggestion is successful and rewarding!
___________________________
Disclaimer. Please remember that you are responsible for own safety and travel arrangements. This service is here for your convenience. Adequately screen prospective ride sharers. REN XUE Europe is not responsible for any personal injury, property damage, or other loss that might occur as a result of your choice to rides share.
Accommodation & Fees
The fees below are per person and include accommodation, food and all teachings and related teaching material from Yuan Tze and senior Ren Xue teachers.
**If you pay by Bank Transfer we will offer you a €50 discount fee on your accommodation choice**
Accommodation is basic with some rooms having private toilet and shower and others having communal facilities – More information and images of Domaine de Lembrun accommodation
Rooms may become available due to cancellation or other circumstances, it you would like to know more or be added to the waiting list please contact Cathy at info@renxueeurope.org
EU €1,250 Twin room (2 people sharing separate male and female dorms, communal toilet and showers) SOLD OUT!
EU €1,250 Double/couples room (per person, communal toilet and showers) SOLD OUT!
EU €1,500 Single room (communal toilet and showers) SOLD OUT!
EU €1,550 Single room (private toilet and shower) SOLD OUT!
EU €1,350 Double/couples room (per person, private toilet and shower) SOLD OUT!
EU €1,150 Safari Tent (has 2 rooms, sleeps 4 people in total) SOLD OUT!
EU €1,100 Camping or caravan
EU €1,040 Staying off-site: If you want more privacy and comfort, there are many places to stay close by from castles to campsites on Airbnb in the nearby town of Temple sur Lot and the surrounding area. You will need to organize your accommodation and transportation them separately.
Find alternative accommodation
Linen Service:
Linen and bedding are included in the costs. Each set includes 2 single sheets, 1 duvet, 1 pillow, 1 pillowcase. A kit of towels costs €5 and must be paid directly to the venue. It includes 1 large towel, 1 hand towel and 1 washing glove. Towels can be changed during the stay at an added cost of €5. Alternatively you can wash your towels yourself in the laundry facilities.
Arrival and Departure Information
Ren Xue Retreat 5 – 14 May
Friday 5 May
2:00-5:00pm – Registration
5:00-5:30pm – Orientation for all attendees – Large Dojo
6pm – Dinner – La Grange (Stone Buildings)
7:30pm – Welcome and Group Healing with Yuan Tze
Sunday 14 May
Ends at 11:30am with lunch
Retreat Daily Schedule
Morning
Session 1 – Yuan Gong Practice & Instruction
Breakfast 
Session 2 – Yuan Tze talk
Lunch Break
Afternoon & Evening
Session 3 – varied
Break (30")
Session 4 – Yuan Gong Practice & Instruction
Dinner Break
Session 5 – Yuan Tze talk & Yuan Gong Practice, Group Healing on Day 1, 5 and 8
Note: The five activity sessions are dedicated to learning Ren Xue, group healings, learning Yuan Gong and Yuan Gong practice. Tian Yuan, Di Yuan, Ren Yuan, Tong Yuan and Ling Yuan will all be taught. This program is subject to change in accordance with the changes in the Qifield, a detailed program will be supplied closer to the retreat.
Financial Assistance
Ten EU €200 Financial Assistance subsidies are available to those who would not be able to attend otherwise.
The Financial Assistance Fund is a very limited fund donated by generous individual Ren Xue community members. It is intended to help those truly unable to attend the retreat without financial support. If you can access the necessary funds in the form of savings or if you can find other means of assistance through family or friends, we ask you to refrain from applying for financial assistance.
Subsidies can only be used towards the twin rooms with communal facilities or camping accommodation options.
If you would like to request a financial subsidy of €200, please contact Cathy on info@renxueeurope.org before you begin the Registration Process below.  You will receive a reply within one week.
Ways To Pay
Direct Bank Transfer is our preferred option for receiving payment. Payments within the Euro zone are not eligible for transaction fees. International transaction fees must be paid by the registrant. All payments made via bank transfer are eligible for a €50 discount.
We will email you our bank account details along with confirmation we have received your registration. Please pay the full amount due within 5 working days. Your registration will remain on hold until your payment is received.
Credit Card is our preferred payment method if you are unable to pay by Direct Bank Transfer. Applicable payment gateway fees are included in the retreat costs.
PayPal is also available with applicable payments gateway fees included in the retreat costs.
Registration Process
Step 1:
Complete and submit the online registration form here and select your accommodation type.  You will also need to agree to our Health & Safety, Informed Consent and Cancellation Policies below.
Step 2:
If you are paying by bank transfer, we will send you an email with payment instructions and your order will be placed on hold until we receive your payment. It is important to put your full name as a reference when making the payment so we know it is you who has paid.
When we receive your payment, we will send you an email notifying you that payment has been recieved and your registration is complete.
Step 3:
Closer to the retreat you will receive further details about the retreat program, preparation for the event and registration on arrival at the venue.
Your registration is incomplete until we have received both your submitted registration form and payment.
Meals & Dietary Requirements
Three meals will be provided daily. Please bring your own snacks if you need food between meals. The menu will consist of a variety of tasty vegetarian dishes.
There is a basic selection of tea and coffee throughout the day. If you prefer specific herbal teas, please bring your own tea bags.
Vegan, gluten-free and dairy-free options will also be available, but please let us know when you register if you have any allergies or other dietary requirements so that the venue can plan accordingly.
Weather
May is known as one of the best months to visit Le Temple-sur-Lot.
The average minimum temperature (usually the minimum temperature is noted during the night) in Le Temple-sur-Lot in May is 9.0°C (48.2°F). The average maximum daytime temperature lies around 21.0°C (69.8°F). The amount of rain in May is normal with an average of 83mm (3.3in). It rains on average a total of 11 days.
Linen & Bedding
Linen and bedding are included in the costs. Each set includes 2 single sheets, 1 duvet, 1 pillow, 1 pillowcase. A kit of towels cost €5 and must be paid directly to the venue. It includes 1 large towel, 1 hand towel and 1 washing glove. Towels can be changed during the stay at an added cost of €5. Alternatively, you can wash the towels yourself in the laundry facilities.
Laundry
Washing machines are available for use at a cost of €3 and incudes washing detergent. Dryers are not available at the venue, but you can avail of the fabulous French Spring air.
Internet
Free Wi-Fi is available in La Grange dining area and at the reception building.
What To Bring
Personal toiletries, including earplugs in case they may be useful
Towels, if you do not wish to hire them from the venue
Layers of comfortable clothing for active moving practice and periods of time sitting in the lecture hall
Blanket for keeping yourself warm during seated practice
Yoga/floor mat (solid floor in the dojo!)
Cushion for floor seating or seated practice (chairs are also available)
Slippers or socks for the main practice areas
Tablet/laptop or notebook and pens
Water bottle or thermos flask
Torch/flashlight
Hot water bottle to stay warm
Slip on shoes or jandals/flip flops are recommended for the shower block
List of any prescription medications that we would need to know about in the event of a medical emergency, placed in a sealed envelope with your name on the outside. It will be opened only in the case of an emergency and destroyed after the retreat.
Antigen test and/or masks if required.
Health and Safety Policy
2023 Health & Safety Policy: REN XUE Europe Retreat France
COVID
Your physical and mental health is important to us. REN XUE Europe is committed to offering a safe environment for our time together. We will therefore follow up to date public health guidlines and will endeavor to make the retreat environment as healthy as possible. Please read the Guidelines for Health and Safety information so that we can work well together for everyone's benefit.

WELLBEING
You may notice that many of the suggestions for preparing for a Ren Xue Retreat encourage you to be in a "relaxed, calm and natural" state. Feeling this way is necessary for you to be able to integrate new insights and grow, and also for your safety.
If your mental state is unstable or highly changeable and it is not within your ability to return to a calm state, we would advise that this is not the time to attend a Ren Xue event. Please read our Looking After Your Mental Health information to make an assessment on whether now is the right time for you to join a retreat.
Cancellation and Refund Policy
2023 Refund Policy:  REN XUE Europe Retreat, France
If you need to cancel your retreat registration, please do so early.  Late cancellations may make it difficult to give someone else the opportunity to attend.  Once you have paid any portion of the retreat fee, administrative and possibly cancellation fees will apply, depending on the cancellation date.
If you cancel your reservation:
before 5 April 2023 at midnight CEST, we will refund all fees paid minus applicable administrative charges.
after 5 April 2023 at midnight CEST we will refund all fees paid minus $150 cancellation fee plus applicable administrative charges.
Refunds will be paid within 30 days of receiving a cancellation notice.
PLEASE NOTE THAT:
Anyone leaving the retreat early for anything other than a qualified emergency (medical emergency or a death in the family) will not receive any refund.
If someone leaves early due to a qualified emergency (medical emergency or a death in the family), we will refund the days that are not attended proportionately minus the $150 cancellation fee plus any administrative charges.
As per our Health & Safety Policy, if you have to cancel because you test positive for COVID, a full refund will be given.
REN XUE Europe reserves the right at any time to require that a participant leave the retreat if it is determined that the participant's behaviour is either excessively disruptive or dangerous to self or others.  In this case, all retreat fees are non-refundable.
Cancellation by REN XUE Europe
In the event that REN XUE Europe is required to cancel the retreat due to changes in French or European government COVID policy or any other unforeseen reasons, we will notify you as soon as possible and will refund the full fee amount paid – minus any administrative fees incurred.
Our preferred method for receiving payment is Direct Bank Transfer. Bank Transfer within the Euro zone is free of any fees. Bank Transfer from outside of the Euro Zone may incur fees of which must be paid by the participant to their bank. PayPal and credit card payments are also accepted.
By completing registration for this event, you are accepting the terms and conditions laid out in the Informed Consent Agreement, and Health & Safety and Cancellation Policies voluntarily and recognize that acceptance of these terms serves as release of all liability.